An Adventure at Edge Hill
In May, AiP volunteers gathered in Gloucester, Virginia to restore the windows of the Edge Hill Service Station. Working Monday through Friday, we scraped and chiseled away at decades of old paint and putty to remove the panes of the station's three largest windows and replace them with new glass. This was the first major step in The Fairfield Foundation's efforts to convert the Main Street station into a workable, energy-efficient building for their offices as well as multi-use space to engage the community in exploring its heritage.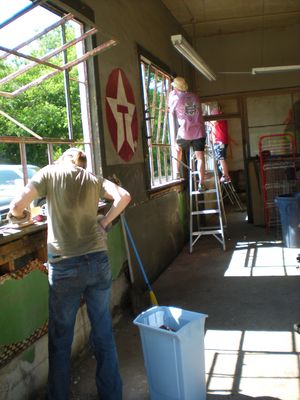 It wasn't all work and no play, though. Breaks during and after the work day let us take a breather and get to know Gloucester - and each other. Highlights included a glimpse at the awe-inspiring Rosewell ruins and a behind-the-scenes look at Colonial Williamsburg Archaeology. Lucky us!

It was a week well spent with warm weather, wonderful company, and windows, windows, windows! While we took the first step with this project, The Fairfield Foundation still has lots of work to do to get its station up and running and welcomes any helping hands. Pitch in if you can! Watch for the 2012 adventure on our website listings.
See more of the fun at our Facebook page!

LEED & Historic Preservation Coming Together

With an increasingly green-minded world, more and more architects and project managers are seeking LEED-certification. LEED (Leadership in Energy & Environmental Design) is a great initiative and certification system established by the U.S. Green Building Council over a decade ago. While it inspires more mindful building design and energy efficiency, it is constantly evolving with a ways to go... particularly when it comes to historic buildings. The 2012 draft for LEED takes steps in the right direction - for example, credit for saving historic windows - but still leaves something to be desired in credit opportunities specific to historic buildings and preservation. As it stands, there is no differentiation between historic buildings. (The needs of a 50-year-old buildings are not the needs of a 150-year old building!) Maybe reflective of the green-architecture-vs.-historic-preservation myth, LEED begins to assist preservation efforts, but doesn't yet go all the way. With time it can happen! Keep an eye on the ways in which LEED evolves to aid historic preservation - and an ear out for what you can do to spur that evolution along!
Next Summer in Nova Scotia
Already planning next summer's holidays? Check out our Historic Housing for the Near-Homeless adventure! For two weeks in July, we'll work on one of the Hertiage Canada Foundation's Top 10 Most Endangered Places, a century-old Dominion Coal Company house at Glace Bay.
Together with Cape Breton University, Nova Scotia Community College, the HomeMatch program, and the community, AiP volunteers will work on all aspects of the house: windows, woodwork, floors, foundation, and furnishings! This trip is a chance to gain home repair and maintenance skills while making the structure livable for near-homeless families. It's also an opportunity to explore the truly beautiful Nova Scotia, including one of National Geographic's 500 of the World's Most Spectacular Trips.
Join us July 8-21, 2012 at Glace Bay to help families in need and to experience the magnificence of Cape Breton. Learn more about Historic Housing for the Near-Homeless here!
Conference Calendar
12th Symposium of the International Coronelli Society for the Study of Globes - September 29 - October 1, Jena, Germany
The latest symposium organized by The International Coronelli Society, which is devoted to the scientific investigation of questions relating to old and antique terrestrial and celestial globes, armillary spheres and planetaria, and the publication of the results of these investigations. For information, see www.coronelli.org.
I Know Where I'm Going : Remote Access to World Heritage Sites from St Kilda to Uluru - November 23-24, 2011 - Edinburgh, United Kingdom
This international conference will explore the potential and challenges created by new technologies to develop high-quality, remote-access, visitor experiences for UNESCO World Heritage Sites and other sites of cultural, historical and natural significance. For information, see inspace.mediascot.org.
17th ICOMOS General Assembly and Scientific Symposium on Heritage: Driver of Development - November 27 - December 2, 2011 - Paris, France
The effects of globalization, which are manifest in the growing trends towards standardization and westernization, bring various forms of instability to human societies on every continent. Until now, heritage has been confined to the role of passive conservation of the past, and so has often been seen as a burden hindering development. In the future, it should be called upon instead to play a major role, re-establishing cultural identity and diversity as key reference points for development; these factors are currently endangered, yet vital. There is therefore a need to reassess the role of heritage in a constructive way. For information, see www.icomos-paris2011.com.