The Story of Significance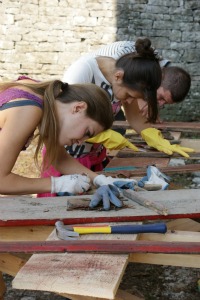 For historians, planners and preservationists, the issue of significance is, well, significant. The significance of something historic is what makes its preservation important. It also guides the type of work to be done. There is no way to save every old building and, with the exception of not wanting to waste the material and energy used in construction, it makes no sense in this ever-changing world to try to do so. Focusing on significant buildings and features allows the stories they hold to be preserved.
Each country has its own way of evaluating or recognizing significance of historic buildings. One of the criteria AiP uses in developing projects with our local partners is the significance of the structure. Many of our projects are World Heritage sites, US National Historic Landmarks or listed on local or state inventories. All play an important role in the lives of the community.
Your role is, of course, significant too! None of AiP's projects would happen without the many volunteers who join our adventures or work behind the scenes with us. Working together, we are helping preserve the world's architectural heritage.
Vacation Plans Up in the Air?
It's not too late to join AiP in preserving a piece of aviation history this summer.
Join us and our project partner, the Friends of Bellanca Airfield, in New Castle, Delaware, the second week of August. We will be tackling the windows of the massive structure. The classic 1935 hangar is the last remaining structure of the once bustling Bellanca Airfield and manufacturing complex. It housed Air Service Inc., the first full-service, public-use aviation center in Delaware, which operated at Bellanca Airfield from 1928 until 1960.
You can get a sneak preview during one of the Friends' upcoming open houses; the next three are June 25, July 9 and July 23. Volunteers have put hours and hours into the hangar's restoration and with just a bit more help from people like you, their dream of creating a Golden Age of Aviation Museum will take flight.
Registration closes July 24. Sign up today!
Conference Calendar
New Light on Vernacular Architecture Studies in Britain, Ireland and the Isle of Man - June 22-25, 2011 - Douglas, Isle of Man
This conference will bring together scholars and practitioners from a variety of different disciplines to identify and encourage new directions, new approaches, and new interpretations in the study of vernacular architecture in Britain, Ireland, and the Isle of Man. For information, see www.liv.ac.uk.
Looking Forward: Preservation in New England in the 21st Century - October 1, 2011 - Bristol, Rhode Island USA
Join a new generation of preservationists as they articulate a vision for what is to be preserved in New England in the twenty-first century. Graduate students from the nation's top preservation and public history programs explore topics in three different areas: evaluation, assessment, and interpretation; integrity and treatment; and advocacy and activism. For information, see www.historicnewengland.org.
Heritage on the Edge: Sustaining Buildings, Landscapes and Communities – October 11-16, 2011 - Victoria BC Canada
Networking with delegates and speakers from around the globe and sessions on Sustainability;, Cultural Landscapes and Communities; Buildings, Structures, Vessels and Underwater Archaeology; and Materials. For information, see www.apti.org.