Celebrating What We Love About Preservation!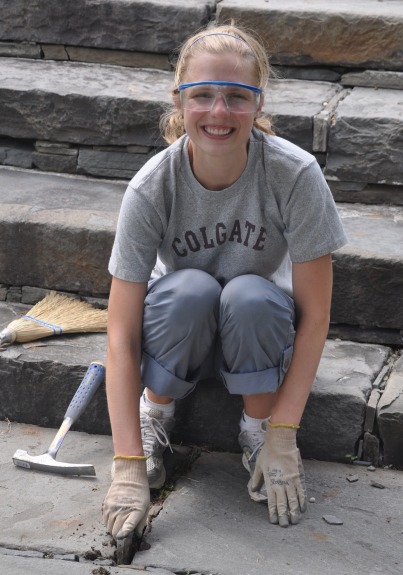 May is National Preservation Month! This designation by the (US) National Trust for Historic Preservation is both a call to action and a cause for celebration. Across America, communities and organizations are holding special events of all kinds. A sampling of this year's activities includes art exhibitions, free admission to historic sites, lectures, historic house tours, and even running walking tours! Many local organizations use this month to recognize particularly outstanding preservation projects or the people behind community preservation programs. You can find lots of ways to actively participate in preservation this month at preservationdirectory.com.
AiP will be celebrating in Gloucester, Virginia, with the volunteers who are helping restore the Edge Hill Service Station. There's still time to register for this great adventure in preservation!
If you aren't participating in a formal event, you can still get into the spirit: go hug your favorite historic building – and post a photo of it on our Facebook page!
Heritage Tourism: The Cornerstone of Sustainable Development
Like to travel? You're not alone. The World Tourism Organization recorded 935 million international arrivals in 2010.
All this travel has a significant economic impact. The U.S. Travel Association (2010) estimated that travel and tourism directly contributed $704.4 billion to the U.S. economy. The industry is one of America's largest employers, including the people who bring you to a destination all the way to the person who sells you a souvenir postcard on your way out.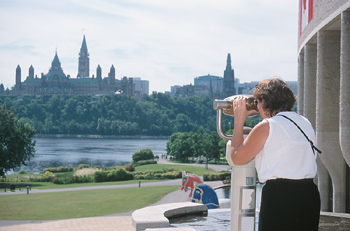 Heritage tourism brings similar good fortune. A Heritage Lottery Fund (HLF) report estimates the heritage tourism industry contributes almost £21 billion annually to the UK's GDP.
And there's good news for our partner organizations: culture and heritage matter to tourists - 57% of respondents from 20 countries agreed that history and culture are strong influences on their choice of holiday destination (only 15% disagreed).
With statistics like these, imagine the benefits heritage tourism can bring to emerging economies. AiP's projects benefit such economies in many ways. Not only are they part of heritage tourism, attracting visitors who are most keenly interested in experiencing a city's heritage, but they also promote future tourism by preserving the world's architectural heritage for all to see, enjoy and benefit from. Travel with AiP and see the world of good you're doing.
AiP Wins April's Open Challenge!!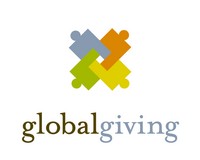 Last month AiP wrapped up a very successful fundraising campaign through GlobalGiving. Our Albania: Preservation Skills Training for Locals project saw US$4,300 and 58 donors' worth of support. Thank you to all of our generous friends, families, and preservation enthusiasts! With your help we now have a permanent spot on the GlobalGiving website – making AiP more visible to corporate sponsors and giving us access to invaluable online fundraising tools. This means AiP will be able to focus even more on our mission – restoring buildings and renewing communities through the preservation of heritage worldwide. Thank you for your past and continued support, fellow adventurers in preservation!
Conference Calendar
American Institute of Architecture Students Grassroots Leadership Conference - July 21-24, 2011 - Washington, DC, USA
For 26 years the AIAS has been preparing future leaders in architecture through its AIAS Grassroots Leadership Conference. Each year the conference brings together chapter leaders, Freedom By Design program leaders, and other emerging professionals seeking insight and preparation on how to make the most of their year ahead. Conference has a three-track program for emerging leaders and graduating professionals. For information, see www.aias.org/grassroots.
Icon SWP Conference: Conservation of Architectural Plasterwork - September 23, 2011 - Ironbridge Gorge, United Kingdom
The Icon Stone and Wall Paintings committee of the Institute of Conservation is organizing a day-long event to provide a review of currents methods and knowledge, specifically relating to the in situ conservation and the technical understanding of historic plasterwork. Through a series of illustrated talks by conservators, researchers, analysts and archaeologists it is hoped a range of detailed technical presentations and case studies can help provide new insight into this subject. For information, see www.icon.org.uk.
Salt Weathering on Buildings and Stone Sculptures - October 19-22, 2011 - Limassol, Cyprus
Soluble salts are a principal agent of decay in porous building and decorative materials. This conference addresses salt-related problems focusing on the study of the decay mechanisms, the key parameters controlling the crystallization of salts and the development of new conservation methods and materials. The conference is open to both researchers and practitioners and it aims to provide a forum to present and discuss recent findings. For information, see www.swbss2011.org.