Wild About Windows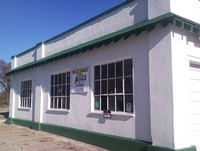 Spring is just around the corner and with it spring cleaning, including washing those dirty winter windows. If you're as wild about windows as we are, come join us in Gloucester, Virginia and learn how to clean, repair and restore metal and wood frame windows at the Edge Hill Gas Station. With Phil Mark, Director of Preservation at Stratford Hall leading the work, it's bound to be a great adventure in preservation.
The week-long project ends on Memorial Day weekend, just in time to kick off the summer season with a weekend exploring nearby Williamsburg, Jamestown and Yorktown.
GlobalGiving Open Challenge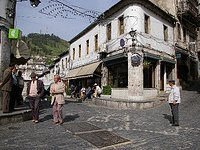 Like Cinderella with nails bitten to the quick, we are awaiting our invitation to participate in GlobalGiving's Open Challenge next month. We will have 30 days to raise a total of US$4,000 from at least 50 different people. Our focus is raising funds for AiP's preservation work in Albania, but we're also vying for the chance to become a long-term member of the GlobalGiving Community. Watch your inbox for your chance to support us in our quest and help restore more buildings and renew more communities.
Save a Building, Create a Job
The key finding of a 2010 report by Rutgers University is great news for preservation. According to the report, historic rehabilitation has created 1.8 million jobs in the US over the past 30 years. This finding comes from an analysis of 36,481 projects that were certified eligible for federal tax credits during the period 1978-2008. Fifty-eight thousand of those jobs were created in 2008.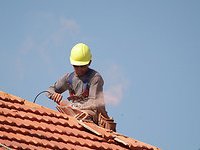 These kinds of construction jobs are just one part of the picture. The benefits of preservation continue long after construction is complete. Additional jobs are created when buildings are restored and returned to use as stores, offices, restaurants and hotels. When those buildings also contribute to the heritage tourism industry, their impact is even more profound. Tourism in a leading industry in many countries, and generate 10.3% of world GDP and 8.2% of total world employment.
These statistics, coupled with the fact that the greatest growth in global tourism is in experiential travel, included adventure travel, eco travel and cultural travel, mean that AiP's emphasis on helping communities preserve their architectural heritage over the long-term is right on target. You can help too, by joining an AiP project this summer.
Conference Calendar
Private Domains/Public Displays: The Modern House Interpreted - April 5, 2011 - Pittsburgh, Pennsylvania, USA
When he designed Fallingwater, Frank Lloyd Wright abandoned conventional notions of building and living. New materials and technologies permitted unprecedented experimentation, while creating unexpected challenges that define the modern movement. To explore these issues, an international gathering of directors and curators will convene in Pittsburgh to discuss strategies for preserving and interpreting nine of the world's iconic modern house museums. For information, see www.fallingwater.org.
2011 National Underground Railroad Conference - June 15-18, 2011 - Clermont County, Ohio, USA
This year's theme, "Pathways to Freedom: Presenting the UGRR through Education, Interpretation, and Heritage Tourism," will explore modern efforts to disseminate the inspiring history of the Underground Railroad, looking at the ways in which scholars, sites stewards, educators, and others balance the need for accuracy, authenticity, and respect with telling an engaging story of the quest for freedom. For information, see www.ugrconference.com.
28th Annual Conference of the Society of Architectural Historians, Australia and New Zealand - July 6-9, 2011 - Brisbane, Australia
The 28th Annual SAHANZ Conference in Brisbane, 2011, takes 'Audience' as its broad theme. Who are the audiences of architectural history? To whom are books, articles, and exhibitions of architectural history addressed? Does architecture have an audience simply by occupying a place in the world? The conference will consist of open sessions and themed sessions on a variety of topics. For information, see www.sahanz.net.
On Our Blog
How to Spend a Summer Becoming a Preservationist
AiP in the News
Icon of America's Automobile Age to Get a New Lease on Life
Upcoming Adventures
Glazing at the Gas Station, Gloucester, Virginia
Shutter Shop On Shore Road, Bronx, New York
Saving the City of Stone, Gjirokastra, Albania
Plasterwork at Ponikva's Historic Villa, Ponikva, Slovenia