Sharing the Love in Lamu
AiP's long-awaited project in the World Heritage site of Lamu, Kenya, got underway in November. With funding from The Genographic Legacy Fund of the National Geographic Society, the staff of the National Museums of Kenya was able to offer critical building conservation skills training at one of the most important historic residences in the Old Town. Work centered on the coral rag house and involved removal of inappropriate materials used in repairs over the years, repair of ceiling joists and restoration of lime plaster.
Preservationists in Lamu have been struggling with the loss of skilled craftsmen working in the community. Only the return of this traditional trade will assure that Lamu's signature historic buildings - which are the backbone of the island's economy through heritage tourism - will survive. Providing technical assistance to projects like this is just one way AiP is helping preserve the world's architectural heritage.
Our Year in Photos
Check out our Flickr photostream to see photos from our 2010 projects. AiP volunteers played vital roles in the restoration of buildings in Albania and Slovenia this year. They were also instrumental in the restoration of the walkways at the National Historic Landmark Bartow-Pell Mansion terrace garden in The Bronx, wrapping up the project a full year ahead of schedule.
If you see adventure in your future, there's no better place to look than our 2011 trips.
Intern Spotlight
Any organization is only as good as the people behind it, and we're pleased to welcome two fabulous new interns who will help us shine.
Nicholas Merkelson is AiP's new spokesperson and outreach intern. He holds a B.A. in Religion and Archaeology from Carleton College and an M.A. in Cultural Heritage Studies from the Institute of Archaeology, University College London. He has participated in archaeological excavations in Kenya and Spain and conducted anthropological research at the National Museum of Natural History in Washington, D.C. Through his world travels, he has witnessed fragile architectural heritage in diverse cultural contexts, his key motivation in joining our efforts to conserve and restore these critical monuments to human achievement. Nicholas is also the founder and moderator of Culture in Peril, a widely acclaimed blog devoted to the discussion and interpretation of cultural heritage issues.
MacKensie Cornelius comes to AiP via Asia, where she has spent the last several years living and working and preparing for shifting to a career in historic preservation. MacKensie has a B.A. in Anthropology and Chinese Studies and an M.A. Anthropology, both from University at Albany, State University of New York. She has participated in archaeological digs all over the East Coast of the US and most recently, in Mongolia. She is keen to be involved with AiP because she knows the tremendous power of community driven projects: when a community can come together and preserve a part of their heritage it can be a catalyst for continued cooperation and change. She will be focusing on grant writing and fund raising activities for our 2011 projects.
Celebrate the Season with a Gift to AiP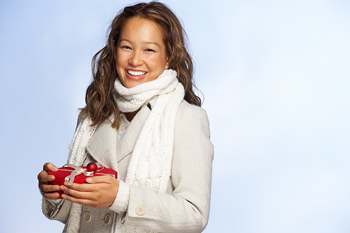 Did you know Adventures in Preservation is a registered 501(c)3 non-profit organization? We are! Which means that donations from US taxpayers are tax-deductible. As you consider year-end giving, please consider a gift to AiP. Your support means the world to us. With it, we can continue to restore buildings, renew communities and improve lives. It's easy to donate online or by mail.
Conference Calendar
Energy Efficiency in Historic Buildings - February 9-11, 20100 - Visby, Sweden
A look at energy efficiency through interdisciplinary cooperation, where energy conservation is integrated with the conservation of cultural property. The conference aims to develop and disseminate knowledge and technical solutions that will contribute to energy efficiency while safeguarding our cultural heritage, with a goal of creating a solid knowledge-based framework in order to facilitate long-term sustainable management of historical property of high cultural value. For information, see sparaochbevara.se.
Renewable Energy Development: Impacts on Cultural Resources - February 25, 2011 - Phoenix, Arizona USA
Identify the impacts and effects that large-scale renewable energy development, such as solar and wind power, geothermal projects, and corridor development may have on cultural resources. Understand the infrastructure systems required and review approaches for identifying resources. Discuss the legal and consultation requirements under Section 106 of the National Historic Preservation Act and the National Environmental Policy Act. Explore the time frames and options for addressing impacts on cultural and natural resources. For information, see www.npi.org.
Conservation of Architecture, Urban Areas, Nature & Landscape: Towards a Sustainable Survival of Cultural Landscape - March 14-16, 2011 - Amman Jordan
Organized by The Center for the Study of Architecture in the Arab Region, Jordan Al-Turath Foundation, Saudi Arabia in collaboration with Queen Rania Institute of Tourism and Heritage, Hashemite University, Jordan, the CSAAR 2011 conference will bridge the fields of architectural and environmental conservation. It aspires to bring together scholars from multiple disciplines and focus on conservation ethics as an essential component of environmental design within existing urban settings. As cities in the region grow and evolve at an unprecedented rapid pace, reversing the threats facing historic cultural landscape requires rethinking of the field of conservation. For information, see www.csaar-center.org.