The Modern Preservation Movement
Time has caught up with us! For years, preservation and preservation technology focused on the ancient, old and merely historic. One key strategy was to keep traditional skills, such as timber framing and lime plastering, alive. But now we're faced with a new challenge: how do we preserve non-traditional materials, or buildings built with new techniques and technologies?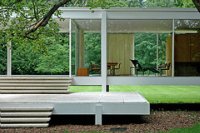 Buildings that were once "new" and "modern" face a myriad of challenges, including obsolescence, energy inefficiency, and materials failure. They even suffer, as Victorian houses once did, from a perception of being "ugly". In a repeat of preservation's own history, the developing Modern Preservation Movement is gaining strength.
TrustModern, the US National Trust for Historic Preservation's Modernism + Recent Past program, is working to change how we view, steward, and preserve the architectural and cultural heritage of the recent past before more landmarks are lost. They have developed some tools and resources we all can use.
On a broader scale, Docomomo International has been working since 1988 to safeguard important modern movement buildings; facilitate information exchange related to conservation technology, history and education; and create awareness of the ideas and heritage of the modern movement. Docomomo International includes 53 chapters and more than 2,300 members, in Europe, America, Asia, Oceania and Africa
If you'd like to get some "modern" preservation experience, join our volunteer vacation at the 1930 Edge Hill Service Station in Gloucester, Virginia, May 22-28, 2011. When restored, it will be the headquarters for the Fairfield Foundation and a center for historic preservation outreach – of all kinds.
Summer Project in Slovenia
The focus of AiP's project in Brecljevo, Slovenia, this summer was masonry conservation, but we ended up learning about all kinds of other things, from folk dancing to gilding, as well.
Nine AiP volunteers worked in partnership with Zavod Etno-Eko in beginning restoration of a 17th century cottage in the tiny village of Brejevico in August. The group, led by Australian conservation architect Stephen Booker, accomplished three main tasks:
removing Portland cement mortar from the building's foundation and replacing it with lime mortar;
dismantling loose and collapsing portions of the cottage's original stone oven in preparation for for restoration; and
rebuilding of a section of collapsed wall using the original stones and lime mortar.
The work week was organized to leave ample time to explore the region and its cultural and architectural heritage. Excursions took the group to the coastal city of Piran, Predjama Castle, and a number of historic churches. See photos from this project!
Our Destination: Preservation Subscription Drive has a Winner!
Congratulations go to C. Moore, who has won a Built fliptop camera case from our friends at Peace Frogs Travel Outfitters. Look for more fun and exciting events and giveaways in the days to come.
If this is your first issue of Destination: Preservation, Welcome! We hope you will find our monthly newsletter both informative and inspiring. If you like what you see, please be sure to tell your friends. Our projects depend on volunteers for their success!
Conference Calendar
Historic Tree Preservation Workshop - November 30 - December 2, 2010 - Fredericksburg, Virginia USA
Historic trees are iconic landscape features and important historic resources. Understanding and promoting proper tree care is an essential skill to ensure historic trees grow to their full potential and have the longest life possible. The workshop will feature a combination of presentations and hands-on field sessions. This training is for landscape managers, maintenance staff, volunteers, and others who care for, or are interested in historic trees. No previous tree care knowledge is required. For information, see www.ncptt.nps.gov.
Living in Harmony with the Four Elements: International Conference on Disaster Management and Cultural Heritage - December 12-14, 2010 - Thimphu, Bhutan
For holistic and sustainable disaster management and the positive recovery and growth of communities after a disaster, it is essential to integrate local cultural traditions and heritage into the overall framework of disaster management initiatives. This conference will help fill in a crucial gap in the international initiatives on disaster management and offer a valuable opportunity for the world to discuss and address these concerns, share knowledge and experiences and increase the profile of cultural heritage and indigenous values and traditions for disaster risk management. For information, see www.ddm.gov.bt/conference.
On the Surface: The Heritage of Mines and Mining - April 4-16, 2022 - Innsbruck, Austria
The focus of this conference is upon the heritage of mining and the extractive industries and the physical sites and the social legacies left on the Earth's surface. Some former mines, mining landscapes and communities have gained heritage status and have become popular tourist attractions while others lie abandoned. This international, multidisciplinary conference seeks to critically examine the powerful and on-going fascination with mining and how mining heritage now plays an important role in wider agendas of economic and cultural development. For information, see www.tourism-culture.com.