Discovering the Pavilions of Architect A J Davis
Alexander Jackson Davis (1803 –1892) was one of the most prominent architects of his generation. His work included capitol and collegiate buildings, but he is best known for his country houses. He designed in the Egyptian, Tuscan, Italian, and Gothic styles, always taking care to link the house to its surrounding landscape.
Davis collaborated with landscape designer Andrew Jackson Downing in promoting the English ideal of the picturesque in America, preparing text, drawings and designs for Downing's three books, A Treatise on the Theory and Practice of Landscape Gardening (1841), Rural Residences (1842), and The Architecture of Country Houses (1850).

Davis is closely associated with the Carpenter Gothic style, typified in a pavilion built for John Cox Stevens, first Commodore of New York Yacht Club, and later donated to NYYC for use as its first clubhouse. The building, fondly called "Station 10", has been moved four times in order to preserve it and is currently in Newport, Rhode Island.
Few today know that Davis designed a strikingly similar structure for Stevens' colleague and fellow NYYC founder, John Clarkson Jay, on Jay's waterfront property in Rye, New York in 1849. Its location, known from landscape plans and archival photos, suggests that it had a beautiful view of Rye's Long Island Sound and the boats in Milton Harbor.
Although the pavilion, shown here, was taken down in the 1950s, you can explore the rest of the setting during AiP's workshop at the Jay Heritage Center, which preserves the property. Volunteers will be treated to a tour of AJ Davis' Gothic style Whitby Castle, which is part of the same National Historic Landmark.
Demonstrate the Power of Sustainable Development this Summer in Slovenia
AiP volunteers will head to Slovenia in late August to work with long-time project partner Tanja Gobec. Tanja works tirelessly to teach school children and young adults about their rural heritage and the uniquely designed traditional buildings that have served Slovenes for hundreds of years.
Working on a project team with both local villagers and volunteers from around the world, you can be sure that your hands-on restoration work at a 17th century cottage will provide specific benefits to the community of Brecljevo.
First, you will learn the hands-on skills needed to repair and relay the cottage's masonry walls. By saving the cottage, you will also be preserving the distinctive cultural landscape that attract tourists to the region, providing income for the community.
With hands-on work complemented by field trips in the region, you'll not only enjoy a great vacation, you'll also be creating lasting benefits for this hard-working community. There's still time to join the team - Register today!
Interactive Map Illustrating Cultural Resources Affected by Oil Spill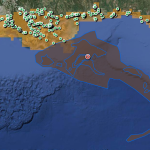 The Deepwater Horizon Oil Spill poses a serious threat to wildlife, cultural resources, and people's livelihoods along the Gulf Coast of the United States. The spill may affect as many as 400 species along the coastal areas of Louisiana, Mississippi, Alabama, and Florida, as well as shipwrecks, archeological sites, Civil War forts, and other historic structures in the Gulf area. These valuable natural and cultural resource are at risk of damage from both the oil itself as well as from cleanup efforts.
US/ICOMOS has created an interactive map showing cultural resources within the Gulf Coast Environmental Sensitivity Index (ESI) zone. This zone is determined by the National Oceanic and Atmospheric Administration (NOAA) and is used to provide a summary of "coastal resources that are at risk if an oil spill occurs nearby." The map includes resources listed on the National Register of Historic Places and includes U.S. National Park Service (NPS) sites and National Historic Landmarks. Archaeological sites, including many shipwrecks, have been excluded as a protective measure.
Learn how you can volunteer to help clean up the Gulf Coast.
Conference Calendar
4th International Architectural Paint Research Conference, August 4-6, 2010, Lincoln, United Kingdom
Organized by the Crick Smith Conservation Institute for Research & Conservation of Historic Decoration and the University of Lincoln, the conference will bring together international members of the architectural paint research community and provide a platform for the interchange of knowledge and to explore the future directions of this significant aspect of buildings and artifact conservation. For information, see www.lincoln.ac.uk.
Annual Conference of the Association for Industrial Archaeology, September 3-9 2010, Penryn, United Kingdom
The conference will concentrate on the industrial past of Cornwall, with its history of mining and other extractive industries and the associated engineering and transport needs. The principal lectures will commence on Friday evening with a brief history of the Trevithick Society, followed by lectures by local experts on various aspects of the industrial history of Cornwall. For information, see www.industrial-archaeology.org.
Historic Mortars Conference, September 22-24, 2010, Prague, Czech Republic
This conference will bring together scientists, technicians and professionals involved in research and studies of historic mortars to present and discuss advances in this topic. The main theme of the conference is the conservation of historic buildings and works of art, i.e. studying mortars with respect to repair. Conference themes include characterization of historic mortars; assessment of mortars and masonry; conservation and restoration issues; and repair mortars for historic masonry. For information, see www.itam.cas.cz/HMC2010.
Upcoming Workshops
Galleting Galore in the Garden, Bronx, New York
Caring for the Carriage House, Rye, New York
Cottage Industry: Saving Slovenia's Architectural and Ethnological Heritage
Keeping Tower Houses from Crumbling, Gjirokastra, Albania