Preservation Knows No Boundaries
The concept of volunteering beyond one's national borders is enshrined in many professions, from engineering to medicine to the environment. Global issues require a global response, and cultural heritage conservation is no different.
Cultural Heritage without Borders has been working since 2004 to preserve endangered cultural monuments endangered in various ways. CHwB's guiding principle is that working with cultural heritage can help vulnerable groups recover their sense of dignity and empowerment, which in turn can increase the possibilities for reconciliation and help in the fight against poverty.

This approach is being implemented in Gjirokastra, Albania, a city on the cusp of change. AiP and our volunteers will be working in partnership with CHwB at our September workshop in this World Heritage city. A concerted, cohesive effort like this is exactly what it will take to save this crumbling stone city and help its people.
Making the Case for Preservation
May is National Historic Preservation Month! Historical societies and preservation organizations across the United States host events ranging from neighborhood walks and ice cream socials to awards ceremonies. It's a great opportunity and fun way to highlight the many wonderful benefits of historic preservation.
At AiP we work year-round to help make preservation happen in communities around the world. This month is therefore an ideal time to remind you of the many social, economic and environmental benefits our preservation projects bring to the communities where we work. By joining us, you, too, can make a lasting impact on society. Preservation keeps traditional skills alive, ensuring jobs for generations of craftspeople to come. Preservation keeps buildings in use and – importantly – reduces both consumption of new building materials and the volume of building materials entering the waste stream. Preservation also provides for a shared sense of history, drawing communities together.
AiP is a strong advocate for all the good that preservation creates, supporting our partners in their efforts to bring the power of preservation to their communities. Cairo, Illinois; Gjirokastra, Albania; and Lamu, Kenya are just some of the places pinning their hopes on preservation and where, coincidentally enough, there are opportunities for you to help this year!
Saving Mosaics in Museums of the Southern and Eastern Mediterranean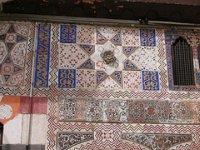 ICCROM, the Getty Foundation, and the General Directorate for Antiquities and Museums, Syria have developed a course entitled "Saving Mosaics in Museums of the Southern and Eastern Mediterranean". In this specialized course for museum professionals in the region, participants will address issues such as why and how mosaics become part of a museum collection; their particular vulnerabilities; how to create the best conditions for their preservation, and how to improve their presentation to the visitors and engage the community in the preservation effort.

The course will be held in Damascus, Syria October 10-28. Space is limited; application deadline is June 13, 2010. For complete course information, see www.iccrom.org.

Conference Calendar

Modernist Architecture Comes of Age: Preservation Meets Sustainability - June 25, 2010 - Burlington, Vermont, USA
A day-long symposium exploring the preservation of historic modernist buildings and how to rehabilitate them to be sustainable and functional in the 21st century. For information, see www.uvm.edu/~modern/.

Reusing the Industrial Past - August 10-15, 2010 - Tampere, Finland
The first joint conference of ICOHTEC – The International Committee for the for the History of Technology History and TICCIH – The International Committee for the Conservation of the Industrial Heritage will feature 71 sessions, 270 papers and 5 keynote speakers, along with tours and site visits. For information, see www.tampere.fi/industrialpast2010.

Preserving the Historic Road 2010 - September 9-12, 2010 - Washington, DC, USA
Four days of education sessions, special events and field workshops will provide you with the latest best practices, theories and methods for the identification, preservation and management of historic roads. For information, see www.historicroads.org/.
Upcoming Workshops
Saving Shotguns: Building a Better Future, Cairo, Illinois
Galleting Galore in the Garden, Bronx, New York
Caring for the Carriage House, Rye, New York
Cottage Industry: Saving Slovenia's Architectural and Ethnological Heritage
Keeping Tower Houses from Crumbling, Gjirokastra, Albania
Re-Discovering the Soul of Swahili Tradition, Lamu, Kenya
AiP in the News
Museum Exhibit Focuses on Cairo's Past, Present
Past Horizons Issue 10: Making Preservation Happen